Upgraded Parking for Local Dog Park

Over the years, Maidencreek Township has worked to increase activity areas. In 2017, the Park and Recreation Committee became interested in adding a dog park. The final design consisted of two play pens and an asphalt parking lot. Constructed in 2018, the pens were an instant hit with the community. However, the parking area left much to the imagination. The township held off on investing in a full lot and instead provided a small rip-rap area and grass parking. In 2019, the township decided to install the designed lot.
Brentwood became aware of the project and offered an alternate design. Because the township is part of the urbanized area around the City of Reading, it is classified as a Municipal Separate Storm Sewer System (MS4), and must adhere to best management practices. Implementing a pervious parking area would reduce runoff from the site that would otherwise be carrying hydrocarbons and other pollutants to nearby Willow Creek. Brentwood's design converted the asphalt lot into a pervious gravel parking area. It utilized the GroundPro GRV to stabilize the stone while retaining its porosity.
Brentwood worked with the township to obtain a mini-grant from the Berks County Conservation District. The mini-grant offset a portion of the material cost, with Brentwood donating the rest. The funding also covered signage to highlight benefits to the community and covered an educational component of the MS4 guidelines.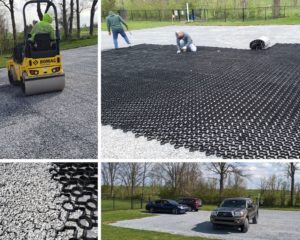 The township's road crew prepared the excavation and base stone. Brentwood provided four staff members to complete the product installation. The road crew then finished up with the stone infill material. Having installed other pavers in the past, the road crew noted GroundPro's ease of connection. GroundPro includes an offset connection between rows to ensure vehicles transitioning from one panel to the next maintain contact with the product. Finally, the product geometry ensures continuous product contact throughout each panel.
Two daily park users commented on the benefits this installation will have for their furry friends – especially since this improvement will reduce the impact of heat on dogs' paws. This project was able to provide a solution to reduce stormwater runoff while improving a common area for dogs and their owners alike to enjoy.