Why are StormTank Module Columns Made from Recycled Material?
Article by:
November 11, 2016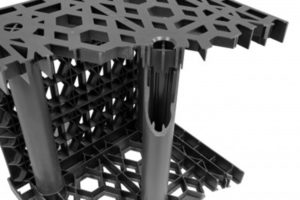 One of the biggest topics discussed during our lunch & learn presentations is material. Engineers want to know what the product is made from and how that translates to system performance once installed. The StormTank Module's top and bottom platens and side panels are polypropylene (PP) components made from virgin material, while the columns are made from recycled polyvinyl chloride (PVC). The usage of virgin polypropylene sets Brentwood apart from many of our competitors… So, why not utilize the same material for the columns?
The biggest reason is the obvious one – cost. The cost of recycled PVC can be as much as 2-3x lower than the cost of virgin material, and the associated savings can then be passed on to the customer. In Brentwood's case, we take recycling a step further. We have a long history of working with PVC for products used in water, wastewater, and cooling tower applications and have our own recycling facility in Lebanon, PA, where material is compounded, processed, and made into a finished part. From pelletizing to the end product, we are able to control raw material quality and all aspects of the production process from start to finish.
So, ultimately, you probably want to get down to the heart of the matter: If virgin PP is better than recycled, is the same true for PVC? To answer this question, we need to understand that there is an inherent difference between these two materials. PP is a polyolefin – a polymer produced by cracking hydrocarbons – while PVC is a polymerization of vinyl chloride – a halogenated plastic – through an exothermic reaction. Because of this, PVC is better suited for reprocessing and will sustain its material properties. With each reprocessing of PP, the mechanic and material properties are rearranged and the resulting material is weakened. This, in conjunction with PVC's superior creep resistance, makes using recycled PVC the optimal solution for our StormTank Module columns.
Interested in learning more about StormTank? Request a lunch & learn presentation!