StormTank Introduces GroundPro™ GRS Flexible Permeable Grass Paver System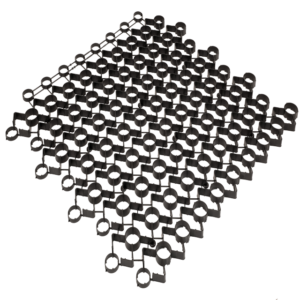 StormTank, a brand of Brentwood Industries, Inc., has proudly introduced the newest addition to its product portfolio, GroundPro GRS. A leader in the stormwater management industry with systems and components that install underground, this is StormTank's first offering to come to the ground's surface—delivering the same proficiency and results engineers and contractors have come to expect from its legacy products.
"After considerable research, development, and testing, we are confident GroundPro will become a best-of-breed solution in the rapidly growing permeable paver market," said Jason Bailey, P.E., Product Line Manager for Brentwood's Stormwater division.
The GroundPro GRS product itself is a flexible permeable grass paver used in ground stabilization and protection applications. Its uniquely engineered design delivers superior load-rating and torsional resistance while the flexible framework rolls allow for quick and easy installation. Manufactured from 100% recycled HDPE, GroundPro's high compressive strength and permeability make it an ideal eco-friendly alternative to traditionally paved surfaces, such as parking stalls/lots, driveways, vehicle access and equipment areas, and emergency lanes.
"GroundPro's patented design integrates a number of engineering and functionality concepts that are new to the industry and true game-changers for permeable pavers," added Bailey.
GroundPro GRS is available for purchase now, and StormTank is already working with engineering firms and contractors on projects that are scheduled to install in fall 2019.