An Above Par Stormwater Management Solution
Case Study by:
November 11, 2022

The approximately 10-acre Topgolf development in North Charleston, South Carolina is located in an area of dense development near the town's Tanger Outlets and Charleston International Airport. Stormwater management for the site required a large StormTank underground detention and water quality treatment system with some unique engineering challenges.
The allowable depth and footprint for the underground detention system was constrained by neighboring wetlands, retaining walls, Topgolf infrastructure (net poles, game targets, etc.), site utilities, and landscape/tree save areas. With these constraints in mind, 36-inch StormTank Module 25 Series units were selected as a solution for this complicated footprint.
The efficient 97% void space of the 36-inch Module 25 Series allowed for a compact detention system design that would not have been possible with most underground detention products. The product's modular design allowed for easy, quick modifications of the detention system whenever the contractor encountered a conflict in the field. A section of Modules can simply be relocated to another area in the system without requiring refabrication of materials or a loss of storage volume.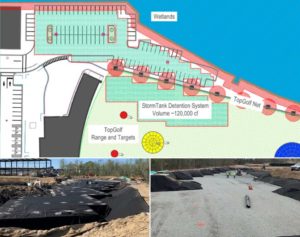 Debris Row sections were incorporated into the system design to meet water quality requirements of 80% TSS removal for the 1.8-inch allowable water quality event, per the North Charleston Stormwater Design Manual.
The complexity of the Topgolf site required close coordination between the StormTank team and the project's civil engineering team, sitework contractor, and material supplier:
Civil Engineer of Record: Reveer Group
Sitework Contractor: Landmark Construction
Drainage Materials Distributor: Fortiline Waterworks
The StormTank system was installed in the spring of 2022, with Topgolf expected to open in the winter of 2022.